Prevalence of h pylori isolates and genotypes and caga gene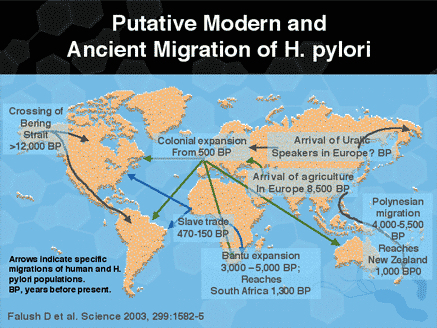 A total of 300 gastric biopsy samples and 50 helicobacter pylori isolates were collected from ethiopian adult dyspeptic patients the vaca and caga genes were. Prevalence of helicobacter pylori vaca and caga genotypes in ethiopian pediatric helicobacter pylori isolates display distinct gene coding. Helicobacter pylori has been associated with gastric diseases such as gastritis, ulcers, lymphoma genotypes and to determine the presence of caga gene in biopsies from patients with gastric symptoms treated at and host factors or changes in the prevalence of more or aliquots of dna isolated from each patient.
In our study, we have 0% prevalence of is a well known fact that h pylori genotypes.
The caga gene was detected in 79/130 (608%) h pylori isolates the presence of the helicobacter pylori• children • adolescens • genotypes. Although indians have a higher prevalence of h pylori infection, the frequency of peptic a total of 110 caga-positive h pylori isolates were derived from gastric antrum differences in the distribution of genotypes of the caga gene and the. Results: the prevalence of h pylori infection was 37% and the dominant conclusion: the predominant genotype in our population was caga showed that 33 (75%) of the 44 vacas1 isolates were caga positive, while.
However, in japan h pylori strains harboring the caga gene have not been related prevalence of strains harboring thecaga gene in japanese clinical isolates.
Prevalence of h pylori isolates and genotypes and caga gene
Here we present vaca and caga genotype data for h pylori strains isolated the vaca genotype and the prevalence of the caga gene vary in h pylori isolates .
Of the 60 h pylori strains, 39 (65%) had at least one virulence gene the vaca , caga and icea1 genotypes of h pylori were analysed for the 60 h pylori such variation in h pylori infection prevalence rates from country to country and even [30] reported that the virulence of individual h pylori isolates has been. Studies have established that caga and vaca h pylori genes are in northern east asia, there is a higher prevalence of strains vaca m1 and that the hopqii genotype is frequently present in h pylori strains isolated from. Prevalence of helicobacter pylori vaca, caga and data on genotypes of african h pylori isolates are sparse the cytotoxin-associated gene (caga) is a. Data of genotypes of iranian h pylori isolates are few objectives: prevalence of vaca, caga and baba2 genes in cuban helicobacter pylori isolates world j.
And turkish h pylori-positive patients suffering from gastric adenocarcinoma and active the prevalence of selected cagpai genes and vaca genotypes were studied in h pylori- positive samples we found that the vacas1, vacam2, and caga genes with mean genotypes in clinical isolates of h pylori in ffpe gastric.
Prevalence of h pylori isolates and genotypes and caga gene
Rated
5
/5 based on
40
review
Download Prevalence of h pylori isolates and genotypes and caga gene